About Us
Sogno. Dreams in three dimensions
Collaboration
Our clients come to us dissatisfied with what is. They have tastes and convictions, budgets and constraints. They live in neighborhoods as well as houses. They envision a more workable life.
We have the skill to transform challenging spaces into living solutions. We're practical, realistic, honest. We ask a million questions: How do you want to live? What do you need? Working together, we free up possibility. We capture your dream and give it dimension.
The process is often as beautiful as the result.
Sustainable architecture
We view remodeling as a kind of recycling. The traditional lines of a classic house, a Victorian, say, or a Craftsman Bungalow needn't limit the home owner to life in a museum piece. How to build on tradition for a modern life? Remodeling, second story additions, outdoor spaces are ways to revitalize a classic home, and give it an enduring, relevant future.
Team building
Sogno Design Group has long standing working relationships with the people who make your dream reality: general contractors, structural engineers, high-quality artisans, crafts and trades people. These are individuals and companies we have learned to trust through experience, and they can be part of the team assembled for your project. We know going in that they deliver the quality we demand for our designs.
Scale
Dreams come in all sizes but Sogno Design Group has only one way to respond: full tilt. We bring the same muscle to a new powder room that we do to a second story addition where one never existed before.
Advocacy
The heart of collaboration: the architect as client advocate.
At Sogno Design Group we believe it is our responsibility to stand as advocate for our clients, from the permitting process through project completion. Renovating a home is a major undertaking with lots of moving parts. It is bound to be stressful. Sogno Design Group mitigates client stress. We watch your back.
Team
Kathryn A. Rogers, principal architect
Kathy Rogers was drawn to historic preservation and restoration after graduating with a B.Arch from Virginia Polytechnic Institute in 1988, and had the good fortune to participate in notable projects in Washington, D.C. She learned to value the past, not replace it, to make it relevant to today, not destroy it. It's an invaluable layer of experience that informs her residential design work.
To broaden her portfolio Rogers added developmental years as senior designer for residential design/build firms in the Bay Area. Her responsibilities included hands-on, hard-hat field experience with construction crews and contractors.
Kathy Rogers learned building materials. She learned construction methods. She learned how to run an effective construction project and complete it on budget.
A California licensed architect since 1996, Kathy Rogers founded the award-winning Sogno Design Group in 1998 to target high-end residential architecture. Rogers has been at the center of the burgeoning sustainable architecture and green building practices movement in the Bay Area – she has served as a board member of Architects, Designers and Planners for Social Responsibility – and brings that sensibility to her designs.
"I want to make a house work where it is," Rogers says, "respecting the historic fabric of the neighborhood, whether that's ground up design or a second story addition. I know if I meet people's needs inside the home, help them get to something that really works, they will take care of the space, make the home last, and pass it on."
Andrea Montalbano, architect
Andrea Montalbano, a licensed architect, has studied and worked in residential architecture on both the east and west coasts. After receiving her Master's Degree from UC Berkeley, Montalbano worked on urban infill, multi-family housing developments throughout the Bay Area. Before joining the Sogno Design Group in early 2013 she was the architect at a design-build firm in the Sacramento region. Andrea Montalbano specializes in custom detailing and creative problem solving. Sogno Design Group benefits from her research skills and deep technical experience.
"Constraints can foster ingenuity in the design process by adding a layer of complexity," Andrea says. "Good design balances all of these influences; the client's wishes, budgetary and site limitations."
Joshua Horne, designer
After receiving a degree with honors in Architecture from University of California, Berkeley, Josh worked in commercial, public, and high-end residential architecture. During his 10 years of experience he has worked on wineries, tech offices, and residences all over California. Josh joined Sogno Design Group in 2015 and is currently working on earning his architecture license. Josh believes firmly that the incorporation of cutting edge technology can be a valuable tool in the communication of architectural concepts. He brings his expertise in design software and three dimensional modeling to the firm, while his international travels, including recent trips to Japan and Norway, keep him open minded to various cultural influences.
Lin Huang, designer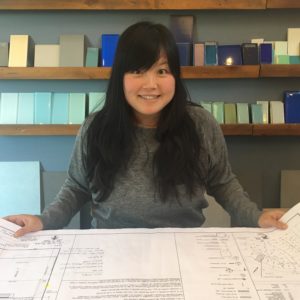 Lin Huang, holds a degree in Interior Architecture and Design. She aspired to be a designer from a young age. Lin brings a tremendous expertise in sourcing of materials and products, and has an affinity for contrasting and highlighting different finishes and textures.
Prior to joining Sogno Design Group, Lin has worked in San Francisco and Taipei. She worked on both large and small scale, commercial and residential projects. With three years of design experience and six years in design build, her expertise is a perfect addition to Sogno Design Group.